Brossman's Catering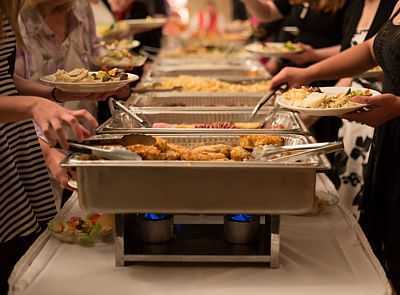 Brossman's features an expert catering staff with over 30 years of experience. We offer a wide variety of full service catering options including buffet style and sit down. If you're looking for something simple for your event, Brossman's can drop off your order hot and ready for you to serve. Hot food pick up is also available. Let us give your special occasion special treatment.
We are available to cater all your special events and occasions including:
Company Events
Weddings
Family and Company Picnics
Anniversaries
Reunions
Family Gatherings
STANDARD ENTRÉE CHOICES:
Brossman's Famous Roast Beef and Gravy
Baked Ham
Barbeque Shredded Pork
Roast Pork Loin and Gravy
Baked Chicken
Breaded Baked Chicken
Mostaccioli and Meat Sauce
Polish Sausage and Sauerkraut
Swedish Meatballs
Sloppy Joe
PREMIUM ENTRÉE CHOICES:
Tenderloin Tips and Mushrooms
Oven Roasted Turkey Breast & Gravy
Chicken Cordon Bleu with Hollandaise Sauce
Stuffed Pork Chops in Creamy Mushroom Sauce
Broccoli and Cheddar Chicken Breast with Hollandaise Sauce
Stuffed Chicken Breast in Creamy Mushroom Sauce
Cicken Kiev with Hollandaise Sauce
Pecan Crusted Chicken Breast
Parmesan Crusted Chicken Breast
Tortilla & Pepper Cheese Stuffed Chicken Breast
POTATOES (Choose One):
Mashed Potatoes and Gravy
Parsley Buttered Potatoes
Baked Potatoes
Au Gratin Potatoes
Rosemary Potatoes
Wild Rice
*Twice Baked Potatoes
*add 50¢ per plate
VEGETABLES (Choose One):
Green Bean Almondine
Mixed Vegetables
Baked Beans
Corn
Peas
Baby Carrots
SALADS (Choose Two):
American Potato Salad
German Potato Salad
Cole Slaw
Pasta Salad
All Season Salad
Tossed Garden Salad
Shrimp Salad
Relish Trays
Jello Molds
Fresh Cut Up Fruit (in Season)
Each Buffet Includes:
Coffee, Cream, Rolls, Butter, Quality Plasticware & Paper Products.
Other Menu Choices Available Upon Request
For groups of 100 or less people the price will be $1 more per plate
For groups of 50 or less people the price will be $1.50 more per plate
Desserts are optional
All prices subject to Sales Tax and 18% gratuity
Deposit is required to confirm arrangements
Prices are subject to change